Press Release - Guatemala ratifies the Comprehensive Nuclear-Test-Ban Treaty (CTBT)
(
spanish version
)
Guatemala has reaffirmed its long-standing support for the Comprehensive Nuclear-Test-Ban Treaty (CTBT) by ratifying the Treaty. The number of ratifications now stands at 156; while a total of 182 States have signed the Treaty. The instrument of ratification was handed over personally by Foreign Minister Haroldo Rodas Melgar at a ceremony at the United Nations in New York yesterday afternoon.
Tibor Tóth, the Executive Secretary of the Preparatory Commission for the Comprehensive Nuclear-Test-Ban Treaty Organization (CTBTO) welcomed the step: "Guatemala's ratification of the CTBT is an important building block towards a world free of nuclear weapons. It underlines Guatemala's commitment to outlaw nuclear testing and to enhance non-proliferation and disarmament worldwide."
Guatemala's ratification follows its announcement at the 2010 Nuclear Non-Proliferation Treaty (NPT) Review Conference in New York that it would initiate the internal ratification procedure. Guatemala signed the CTBT on 20 September 1999 and has shown its support for the Treaty by regularly voting in favour of the CTBT in the United Nations General Assembly. The country also hosted a regional workshop on CTBT International Cooperation in 2005.
The region of Latin America and the Caribbean was the first in the world to establish a nuclear-weapon-free zone with the
Treaty of Tlatelolco
in 1967. "Guatemala's ratification of the CTBT is a boost for the Treaty of Tlatelolco, which will soon celebrate 10 years of being the world's first nuclear-weapon-free zone to include all countries in the region," noted Tibor Tóth, adding: "This bodes well for the CTBT." Among the 33 States in the Latin America and the Caribbean region, 31 have now ratified the CTBT; Cuba and Dominica being the only countries that have not yet signed or ratified.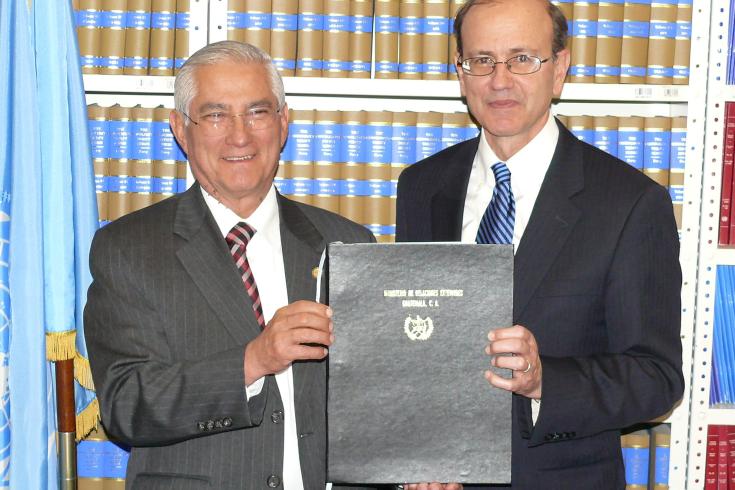 The CTBT can only enter into force after it has been ratified by the eight remaining nuclear technology holder countries: China, the Democratic People's Republic of Korea, Egypt, India, Iran, Israel, Pakistan and the United States, see
interactive map
. The Indonesian parliament took the decision to ratify the CTBT on 6 December 2011.
The CTBT bans all nuclear explosions everywhere, by everyone. The CTBTO is building an International Monitoring System (IMS) to make sure that no nuclear explosion goes undetected. There are currently over 280 facilities in 85 countries, including 35 in the Latin America and the Caribbean region. Guatemala hosts an operational IMS seismic station in El Apazote in central Guatemala. Seismic stations monitor the ground for shockwaves generated by nuclear explosions.
The data registered by the IMS can also be used for disaster mitigation such as earthquake monitoring, tsunami warning, and the tracking of the levels and dispersal of radioactive materials from nuclear accidents.